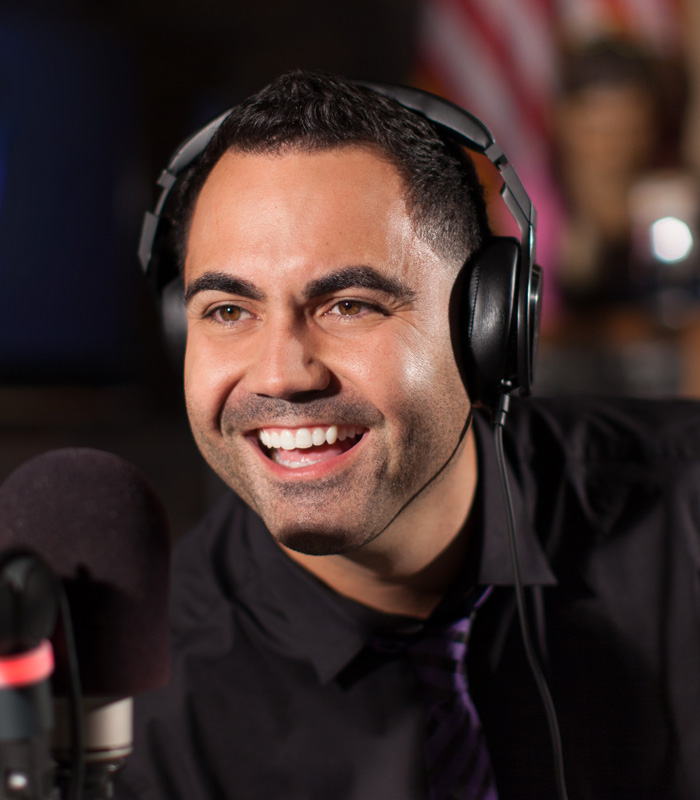 Enrique Santos "Mr. E" is host of the syndicated "Enrique Santos Show," live from Univision Radio's Miami affiliate, WRTO-FM MIX 98.3 (6-10AM Monday thru Friday) simulcast/distributed on WVIV-FM Maxima 103.1/93.5 Chicago, WXNY-FM X96.3 New York, KQMR-FM La Kalle 100.3 Phoenix, KAMA-FM TuMusica 104.9 Houston, KGSX-FM La Kalle 95.1 San Antonio, KKRG-FM La Kalle 101.3 Albuquerque, KRGT-FM La Kalle 99.3 Las Vegas, KLLE-FM KLLE 107.9 Fresno, KVVF-FM Latino Mix 105.7 San Francisco, KLVE-FM K-LOV 107.5 Los Angeles and via UforiaMusica App.
Born to Cuban parents in Chicago, Illinois, Santos gravitates fluidly between the Hispanic and mainstream American radio landscapes. His bilingual broadcasts are a crossover hit combining humor, social satire, and political commentary to bridge the cultural and generational divide of a diverse cosmopolitan audience. Santos has built an enthusiastic following with a comedic repertoire consisting of phone pranks, interviews and a trademark form of fresh and unique interaction amongst celebrities. Santos' extravagant radio persona has made him one of the most popular Hispanic radio hosts in America and earned him unprecedented access to some of the biggest names in pop culture. Santos has interviewed a wide range of celebrities, musicians, and newsmakers, including Enrique Iglesias, P Diddy, Shakira, Ricky Martin, Jennifer Lopez, Marc Anthony, Penelope Cruz, Oscar De La Hoya, Pitbull, Jamie Foxx, Ray Romano, John Leguizamo, Kevin Hart, Ice Cube, George Lopez, Emilio and Gloria Estefan. His clout also extends to the political arena where Santos has conducted interviews with prominent figures such as Senators Joseph Lieberman, Bob Menendez, John McCain, Marco Rubio, President Barack Obama and First Lady Michelle Obama.
As host of the "Enrique Santos Show," Santos has proven himself a particularly adept satirist. Santos gained international notoriety as "The Prank Call Master" for a series of historical presidential prank phone calls to the late President Hugo Chavez of Venezuela and the comedic "coup d'état" – the duping of Cuban Dictator Fidel Castro that inspired an obscenity-laced diatribe from the embarrassed leader. It was perhaps controversial moves such as these that led to Santos' invitation to visit Guantanamo Bay, Cuba and The White House, where he became the first to dance salsa with then newly appointed Supreme Court Justice Sonia Sotomayor.
His deft understanding of socially relevant trends and talent for humor and irony has not prevented Santos from heartfelt participation in the community. Santos has received numerous awards and accolades for his charity and community efforts including disaster relief in the wake of Hurricanes Katrina and Wilma, the deadly Indian Ocean tsunami of 2004, the earthquakes in Haiti, Chile, Japan and Mexico. He lends his talents annually to the St. Jude's Children's Hospital's radio marathon benefiting young cancer victims and their loved ones. In fact, Santos' affinity for community service may have led indirectly to his radio career. While working as a police officer with the City of North Miami, Santos' personality caught the attention of a Miami radio station program director. Santos soon parlayed an opportunity on the overnight shift into a regular stint working weekends. That marked the beginning of more than a decade of groundbreaking radio programming. However, no matter how busy his schedule, Santos has never lost his community ties and continues volunteering as a Reserve Police officer for The City of Miami Police Department.
Official Site for Enrique Santos