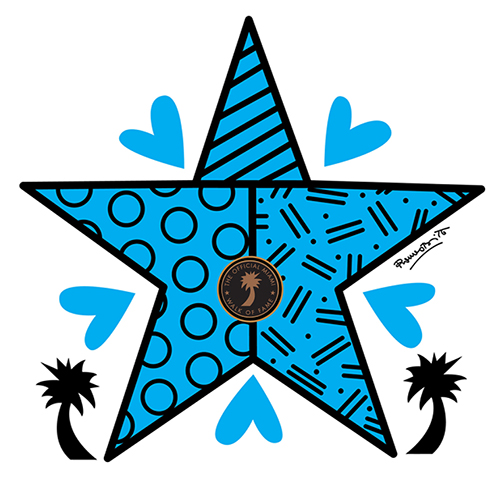 The Official Miami Walk of Fame has partnered with Bayside Marketplace, world renowned artist Romero Britto, Greater Miami Conventions and Visitors Bureau and Miami Downtown Development Authority, to establish the Official Miami Walk of Fame.
This is the launch of a new Downtown Miami tradition, in its arts and entertainment district at Bayside Marketplace, which is known as one of South Florida's prime hospitality and tourism destinations and a vital economic growth engine for Miami.
The Official Miami Walk of Fame at Bayside Marketplace is a world-class tourist attraction and destination in "The Magic City", fashioned after the Hollywood Walk of Fame sidewalk established in 1960.
The Official Miami Walk of Fame immortalizes some of the entertainment industry's biggest names, many who are hometown celebrities in entertainment, television, theater, sports, music and others, chosen by a selection committee of industry peers. Inductees will be honored with an induction ceremony and a star designed by Romero Britto, Brazilian Neo-pop artist, painter, and sculptor, who has lived in Miami, Florida since 1989. The stars will be embedded in the sidewalk flagpole entrance of Bayside Marketplace, 401 Biscayne Boulevard.
The stars are made in Miami by Creative Terrazzo Systems, Inc. using precision laser cutting technology.
The Walk of Fame is a tribute to all of those honorees who have worked or lived in the Greater Miami Area, for periods of considerable regularity and have contributed to the charm, worldwide prominence and name recognition of Miami, FL. The Walk of Fame is open to the public. No paid admission or assigned seating at star ceremonies.